This is an unedited translation of the Kamba people's heroic tale which has been passed from generation to generation through word of mouth. The story is real, and it happened between the 18th and 19th century. Many people, mostly of the Kamba ethnicity have heard a different version of the story. However, the story line remains the same. Personally, I got it from my late grandfather.
Introduction
That night we sat at "thome" (the fire place) with my "umau" (grandfather). We were enjoying our "kalûvû" (a traditional homemade sugar cane Kamba brew) sitting on "mûumbo" (a three-legged Kamba traditional stool). We chatted on several topics ranging from politics to traditions. Umau used to be very talkative and educative after taking his favorite drink. 
After some few minutes, he went silent for two minutes, took his calabash and poured some kalûvû on the dry soil. Pouring kalûvû is a sign of respect to the ancestors. It's also used to appease any angry ancestors and apologizing to them for any 'thavu' (sins) committed by the family knowingly or unknowingly. As a norm, he started counting them one by one calling each by their names. 
I just watched. I had seen him doing this several times. In his libation, he mentioned his late father, his late grandfather, his late grandfather's father, his late grandfather's grandfather, his late 'good' friends, Masaku, Syokimau and much more. My conscience was a bit disturbed by the mention of Syokimau and Masaku. To me, Syokimau was a residential area in Machakos County, Mavoko Sub-county. Masaku is the indigenous name for Machakos town.
From our previous chats, I knew that Masaku was a great Kamba chief and a rain maker who resided in Machakos, Kiima Kimwe area but was born in Sultan Hamud. The old man lived during the colonial period. After death, the man was buried in a secret place on top of Kiima Kimwe hill. The first-class group of his offsprings knows his exact burial place at Kiima Kimwe. Showing it to another outsider would induce a strong curse for Masaku prohibited it." Regardless of the many controversies, Masaku existed and infatuated some supernatural powers, which were far along inherited by some of his well-known descendants, comprising of Paul Ngei who was the undeniable community leader for the larger part of his life until his death in 2004.
When Umau concluded offering libation, I looked into his eyes. He looked like he was in a different world. "And who is Syokimau?" I asked. He looked at me sipped his drink, closed his eyes and again he went silent. He then looked into the sky. It's like the answer was written up there. I also looked up. I only saw stars. What did the old man see in the sky? 
He pulled his seat near me. Sipped his kalûvû again and then he started talking. His voice was full of charisma. 
"My grandson" he exclaimed, "Long before the white man came to terrorize us there existed prophets, medicine men, chiefs, and warriors. Most of them were men. However one of them was different. She was both a prophetess and a medicine woman. She used to predict when we were about to be attacked by 'akavi' (an enemy – this commonly refers to the Maasai community who used to raid the Kamba community from time to time in search of livestock. The Maasais believed that all animals belonged to them). Syokimau would tell us when the community was about to be attacked and offer prayers for our warriors before they went to war.
Birth and Early Life
Syokimau was born long before Kenya's colonization. That must have been between the 17th and 18th century. Rumours have it that she was not born! She sprung out from a tree. Nobody knew her mother, father, relatives, clan or even kinsmen. Was she heaven sent? The savior? A saint? Many questions still remain unanswered.
Her early life is still unknown, however, at her young age, she was possessed by 'maimu' -benevolent demons. She started seeing what others couldn't see. She could see the future. She was a Black messiah. She became a prophetess. That is how she began predicting the future.
Miracles and prophecies.
Syokimau's predictions were more accurate than any statistical or scientific prediction tool. The community always consulted her in all aspects, and she could give guidance based on the future outcomes. Her herbal medicine would cure all illnesses. It is said that she received revelations about herbal treatments in her dreams. In the morning, she would go into the fields to look for the herbs. Anyone who used the herbs got a miraculous cure!
During animal raids, the Kamba community would seek her advice before proceeding to war. The prophetess would predict when the community was going to win or lose. She would then lead the community to the 'ithembo' (a large evergreen tree designated as a shrine). They would then sacrifice a ram or he-goat to offer prayers to ancestors and the Kamba God to help the warriors come back from war unhurt. She used to bless the bows and arrows and each fighter.  The Warriors would then proceed to war and bring back victory. Victory during these times meant capturing the enemy's livestock and possessing them.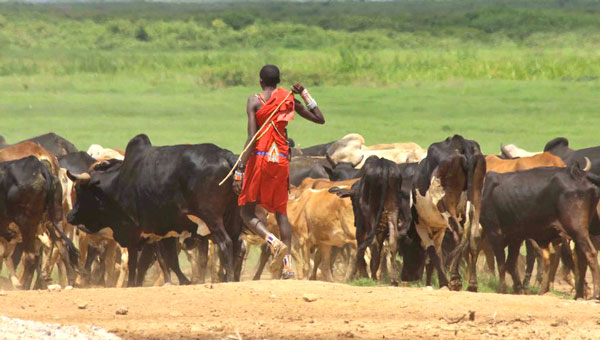 One of the primary reasons why Syokimau is highly venerated by the Kamba community is her ability to predict the future. The prophetess predicted several known historical events which came to pass years after her death. Among the prophecies that she made are the coming of the white rulers, the construction of the major Kenya-Uganda railway line and the train, the gun and match box era, and lastly the generation X.
Prophecy 1: The Colonisation by White Rulers
One day after supper, Syokimau was sitting on her three legged stool. People were gathered around her. They loved listening to her stories. Within no time she started screaming. People thought she was I great pain. Immediately she began "I see them, they are coming" she exclaimed. Who was she talking about? The Maasais? Everyone was afraid. Syokimau continued, "I see people with a funny skin. It looks like it has porridge burns. Their skin is red. It looks like it has been peeled off.
"Who are they." A person screamed from the crowd. "These are your greatest enemies" Syokimau continued, "They will beat you mercilessly. These men will take away your land and your wealth. They will force you to work on their plantations. They will kill you. They will sleep with your wives. They will take away your husbands. They will spread sin and destroy your shrines. They will abuse your God and force you to worship their God. These men are evil. They will use your people to oppress you. They will divide and rule. My sons and daughters, you are finished!" after saying this Syokimau fell asleep.
This prophecy came to pass in 1844 when the Europeans started the exploration of the interior with two German missionaries, Johannes Rebmann, and Johann Ludwig Krapf, venturing the interior with the aim of spreading Christianity. The country soon ignited the fancy of other explorers gradually. The upsurge of New Imperialism in the dawn of the the19th century deepened European attention in the region. The British took control of Kenya and Uganda and colonized it through the Imperial British East Africa Company.
Prophecy 2: The Gun and Match Box Era.
The following day, Syokimau woke up full of energy. People were still gathered around her home. After drinking porridge, one man questioned her about her previous day events. She looked possessed. She then continued, "I tell you, those men will be friends of fire! They will carry it in their pockets. They will suck it in their mouths. They will travel in smoking cows. They will also have a fire in their hands."
Later when the white man arrived in Kenya, fire in their pockets was translated to mean match boxes. Fire in their mouths said cigarettes. Smoking cows were translated to mean cars since they produced smoke. Lastly, fire in their hands involved guns and pistols.
Prophecy 3: The Construction of the Major Kenya-Uganda Railway Line and the Train
A week later, Syokimau became possessed again. Just after the evening meal, she started talking about a snake! "I see a snake, the snake is coming" She exclaimed! People ran out of the hut. Snakes were prevalent during that era. People thought there was a snake in the house. "This snake is very long, it runs from one water to another" she continued. "My dear people, there comes a very long snake which will move from one water body to another water body. This snake will be crawling on two hard straight stones laid by men. It will carry people from one side to another.
This prophecy came to pass when the British commenced the railway construction in 1896. Having assimilated Kenya and Uganda, the British wanted to develop infrastructure and link the coast (the first water- Indian Ocean) to Lake Victoria (the second water). They used material and workforce from India.
And perhaps this is why one of the railway stations is named after Syokimau.
Prophecy 4: The Generation X
That same night, Syokimau prophesied about the coming of a funny generation. "Look!" She said, "generation is coming. They will be speaking like weaver birds. They will disobey their parents and elders. They will not fear taboos. They will disrespect traditions. These children will claim to be full of wisdom. They will surprise you. They will even build houses on top of one another" After saying all this, Syokimau fell asleep.
This prophecy has come to pass in the current generation which disrespects the elders, traditions, and taboos. Apartments and skyscrapers are what Syokimau referred to as houses on top of one another.
The Death of Syokimau
Prophetess Syokimau's death was surrounded by so many supernatural occurrences. This confirmed beyond reasonable doubts that Syokimau was not just an ordinary woman. She was an icon. A chosen prophetess. A Kamba leader- a female leader.
One day the neighbors woke up to a great shock. Syokimau was no more. She was dead! This brought fear among the neighbors. So many questions ran through their minds, but none of them dared to ask. Why?
Was she really dead?
Why didn't she prophesy about her death?
During those days, people used to be thrown to the forests after death. They would then be consumed by hyenas. However, after her death, Syokimau's corpse was left in the house for two days hoping that it would bring good omen to the villagers. However, nothing changed. It had started rotting, and they had to throw it away after performing the necessary rituals.
Two days later, somebody was heard crying in the forest at the exact point where the corpse had been disposed. The neighbors ran there. It was Syokimau. She was praying and shouting. They stood at a distance and watched. When she saw them, she glanced at them, and they were all frightened. A cloud of fear ran in their nerves. She then cried loudly, "Ninyie, ndi mukw'u, ni thayu– It's me, I'm not dead, I'm alive." They were all happy to see her alive again. She accompanied them to the village.
Syokimau lived for two more seasons (approximately two years). During this time she was very old although she still performed miracles, cured people and prophesied.
One day during the rainy season she was rained on. She immediately collapsed and died. Her corpse was left for two days in her hut. It was lifeless. Just like the first time, she was thrown into the forest after the usual rituals. A week later, as the girls were collecting firewood, they saw an old woman approaching them. It was Syokimau. She greeted them, "eitu mwakya- How are you, young girls." They all responded in unison "aaaa- we are fine." She then proceeded to the village. The villagers were happy to see her. They gave her a calabash full of porridge. She drank it all and went to her hut after some chats. She then thanked and blessed them. It was in the evening, and she was tired. Thus she went to sleep.
During all this time, she never talked about her death experiences. Nobody ever dared to question her. The following morning, she never woke up. The neighbors went to her hut and found her dead. However, unlike the other instances, she had died with her mouth wide open and her face facing the sky. This was a rare occurrence. It was interpreted to mean that her soul had left her while speaking to the ancestors. This was her last death! She never resurrected after this occurrence.
Conclusion
After this narration, my grandfather called me "grandson" he continued "keep this in your heart and pass it to the future generations" We then retired to bed.